Travel
Flights
Brisbane airport (Airport Code: BNE) is the closest domestic and international airport located 30 minutes from the Brisbane CBD.  Qantas, Virgin Australia and Jetstar offer direct services from all Australian capital cities to Brisbane.  Brisbane international airport is serviced by 23 airlines offering direct flights to 28 international destinations. Airlines operating from Brisbane international airport include:
Air New Zealand
Cathay Pacific Airlines
China Airlines
China Southern Airlines
Emirates
Etihad Airways
Hawaiian Airlines
Jetstar
Korean Air
Malaysia Airlines
Qantas
Singapore Airlines
Thai Airways International
Virgin Australia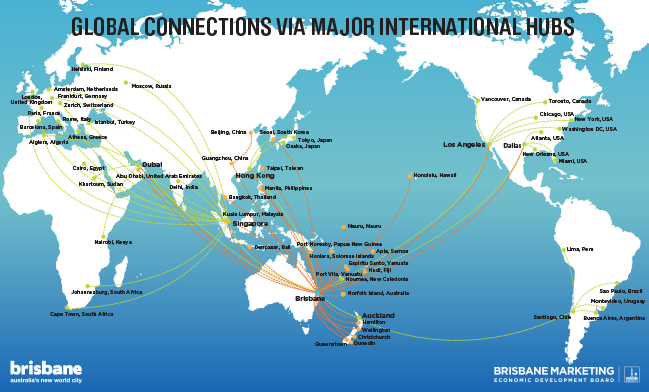 current as at June 2015 - does not show all possible routes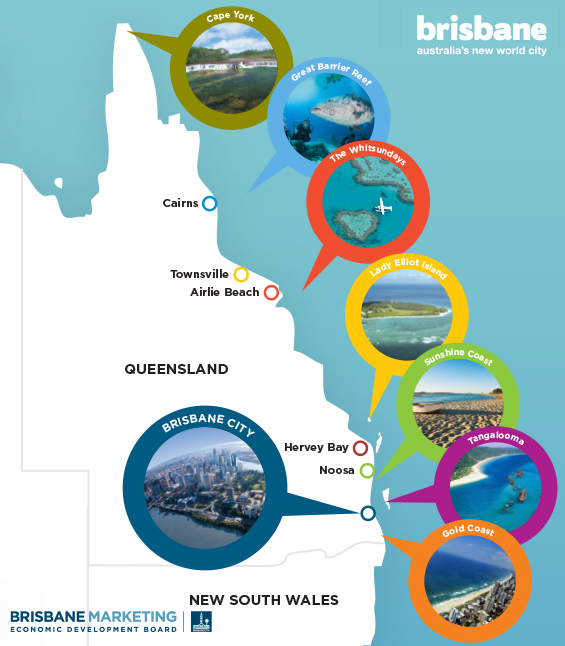 Passport and Visas
All international travellers must present a valid and approved travel document (generally a passport) as evidence of their identity and nationality to allow entry into Australia. In addition, all international travellers (with the exception of most New Zealand passport holders) must also obtain a valid visa before travelling to Australia.
As a general guide, travellers are encouraged to apply for their Australian visa well in advance of their planned departure date.
eVisitor visa
European passport holders can apply for a visa online through the Australian Government's eVisitor system. The eVisitor allows visitors to travel to Australia for short-term business or tourism purposes for up to three months. eVisitor applications are free and are available to passport holders from the European Union and a number of other European countries.
Electronic Travel Authority
Passport holders from a range of other countries (including the US) can apply for a visa online through the Australian Government's Electronic Travel Authority (ETA) system.
Alternatively, passport holders outside of Australia can apply for ETA through a travel agent, airline office, specialist service provider or Australian visa office.  The ETA allows people to visit Australia for short-term tourism or business purposes of up to three months. An ETA is available to passport holders from more than 30 countries, regions and locations.
Note: The eVisitor and ETA systems provide the electronic equivalent of a visa for the short-term traveller, replacing the traditional passport visa label or stamp. Most applications are processed instantly.
Further information is available from the Australian Government Department of Immigration and Border Protection website for eligibility requirements.
Time Zones
Brisbane operates on Australian Eastern Standard Time – GMT plus 10 hours. Daylight savings times do not apply in Queensland.
Climate
Brisbane has a sub-tropical climate that's defined by blue skies and warm sunshine for most of the year. Spring (September - November) is one of the best seasons to be in Brisbane with warm, sunny days tempered by cool sea breezes. The climate is similar to autumn, with average temperatures around 15-25°C.
| | | | | | | | | | | | | |
| --- | --- | --- | --- | --- | --- | --- | --- | --- | --- | --- | --- | --- |
| Temperature | Jan | Feb | Mar | Apr | May | Jun | Jul | Aug | Sep | Oct | Nov | Dec |
| Avg maximum temperature (°C) | 30.3 | 30 | 28.9 | 27.1 | 24.4 | 21.9 | 21.8 | 23.1 | 25.6 | 26.8 | 27.8 | 29.2 |
| Avg minimum temperature (°C) | 21.3 | 21.4 | 19.8 | 17.3 | 13.4 | 11.6 | 10 | 10.5 | 13.7 | 16.3 | 18.6 | 20.3 |
Source: Bureau of Meteorology, 2013
| | | | | | | | | | | | | |
| --- | --- | --- | --- | --- | --- | --- | --- | --- | --- | --- | --- | --- |
| Rainfall | Jan | Feb | Mar | Apr | May | Jun | Jul | Aug | Sep | Oct | Nov | Dec |
| Avg rainfall (mm) | 47.3 | 48.1 | 50.4 | 57.3 | 56.0 | 49.2 | 47.6 | 50.1 | 58.0 | 66.2 | 60.3 | 59.3 |
| Avg number of days of rain ≥ 1 mm | 5.6 | 5.1 | 6.1 | 7.9 | 9.7 | 9.5 | 9.8 | 10.5 | 10.4 | 10.2 | 8.3 | 7.2 |
Source: Bureau of Meteorology, 2013
Visitor Information Services
The award-winning Brisbane Visitor Information and Booking Centre is located in the heart of Brisbane's busiest shopping precinct in the Queen Street Mall (between Edward and Albert Sts). The fully-accredited centre holds a travel agency licence and offers a wide range of information and tourist booking services for travellers. Opening hours: Monday to Thursday 9am-5.30pm; Friday 9am-7pm; Saturday 9am-5pm; and Sunday 10am-5pm.
The South Bank Visitor Centre is located in the heart of South Bank on the Stanley Street Plaza. The centre offers detailed information on South Bank attractions and travel services. Opening hours: Monday to Sunday 9am-5pm.
Visitor Information centres are also located at the Brisbane Airport in the arrivals hall of the international terminal and on the ground floor of the domestic terminal. Both centres offer a range of information and booking services for travellers. Opening hours (international): Monday to Sunday 6am-2am. Opening hours (domestic): Monday to Friday 7am-2.45pm; and Saturday 7-10.45am and Sunday 8.15am-12.15pm.
Tipping
Service with a smile is the rule of thumb in Australia and tipping is always optional. If the service is worthy of a tip, it will be appreciated.
Banking and Money
Banks: As a general guide, banks across the city are open for business Monday to Friday 9.30am-4pm. Some banks in local shopping centres are also open Saturday and Sunday (with varying opening hours).
Automatic teller machines (ATMs): ATMs are located throughout the city and will recognise cards issued by most banks.
Credit cards: MasterCard, Visa, American Express and Diners Club are accepted across the city by most outlets.
Currency exchange: Licensed money change services are available at the Brisbane Airport and at numerous Bureaux de Change located throughout the city. Most banks also offer currency exchange services.
Notes: $5, $10, $20, $50 and $100
Coins: 5¢, 10¢, 20¢, 50¢, $1 and $2
Pricing: Australian prices occasionally end in a variant of 1¢ or 2¢. Where this occurs, at the cash register the price is rounded to the nearest 5¢.
Goods and Services Tax
The Goods and Services Tax (GST) is a broad-based 10 per cent tax included in the shelf price of most Australian goods and services. The Tourist Refund Scheme allows international travellers to claim a GST refund (subject to certain conditions) on some goods purchased in Australia. The refund applies only to items worn or goods taken on board as hand luggage when leaving the country.
Electricity
Mains supply in Australia is 220/240 volts AC, 50Hz with three-pin plugs used across the country. The Australian three-pin electrical socket differs from those found in most countries, and international travellers may require an adaptor socket. Standard outlets for 100-volt small appliances can be found in most hotel rooms.
Adaptors can be bought from the Brisbane Visitor Information and Booking Centre in the Queen Street Mall and from all good travel stores, chemists and department stores.
Emergency Services
In a life-threatening or time-critical emergency, dial Emergency Services on Triple Zero (000). The Triple Zero service is an operator-assisted service that connects callers to the most relevant emergency service organisation (police, fire brigade or ambulance). Calls to Triple Zero are free and can be made from all telephones (landline, mobile phones and payphones).