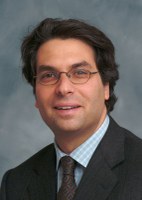 Dr Neil Fleshner
Position:
Head of Division of Urology, Princess Margaret Hospital, University of Toronto
Professor, Department of Sugery, University of Toronto
Websites:
Biography:
Neil Fleshner is currently a Professor in the Department of Surgery at the University of Toronto, Head of the Division of Urology at the University Health Network and Princess Margaret Hospital, and was recently awarded the Love Chair in Prostate Cancer Prevention at the Princess Margaret Hospital. Dr Fleshner is a surgeon and clinician scientist and an established leader in cancer prevention with an emphasis on prostate cancer. He has achieved international reputation as a talented cancer researcher who has made significant contributions in the field of urologic oncology. His current research priorities include translational, clinical and health services research portfolios, which include, but are not limited to the understanding of prostate cancer pathogenesis, progression, and prevention. He earned his MPH degree from the School of Public Health at Columbia University and completed his oncology training at Memorial Sloan Kettering Cancer Center. Dr Fleshner is an avid music lover and father of three. He has authored over 100 scientific papers.
Current areas of collaboration: micronutrient intervention as related to prostate cancer prevention and delay of progression; identification and characterization of genetic alterations at the stromal-epithelial interface in prostate cancer.
Work Focus:
Work Focus (Clinical):

surgery
alternative treatment, androgen deprivation therapy, cancer progression, chemoprevention, clinical, endogenous factors, epidemiology, genes/genetic polymorphisms, localized therapies, marker testing, metastases, patient care, prostate neoplasm micronutrients, surveillance, survivorship, systemic therapies.