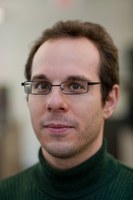 Dr Paul Boutros
Position:
Principal Investigator, Informatics & Biocomputing Platform, Ontario Institute for Cancer Research
Assistant Professor, Department of Medical Biophysics, University of Toronto
Websites:
Biography:
Dr. Paul Boutros pursued his undergraduate education at the University of Waterloo in Chemical Engineering and Chemistry. During the co-op portion of his degree he worked for a wide range of companies, including the Federal Government, a water-purification company, and Petro-Canada. But he found his true calling during a work-term spent at Michigan State University developing computer models of drug response. His undergraduate thesis focused on modeling DNA damage, and was awarded First Place in the National Undergraduate Chemistry Conference. In 2004, Paul started his PhD at the Ontario Cancer Institute in Toronto. During his degree he was received several awards, including the CIHR/Next Generation First Prize and the Invitrogen Canada Young Investigator Silver Award. He received his PhD in 2008 for his work on cancer biomarkers, and started his independent research career with an appointment at the Ontario Institute for Cancer Research. Today his research group focuses on using new DNA sequencing technologies to improve diagnosis and treatment of prostate cancer. In particular, Dr. Boutros is involved with the Canadian Prostate Cancer Genome Network (CPC-GENE), a national Outcomes-Based project focusing on developing biomarkers to predict which intermediate-risk prostate cancer patients will suffer relapse, and which can safely be placed on active surveillance protocols. Additionally, he works on a number of experimental and algorithmic approaches to generating robust biomarkers, particularly in a non- or minimally-invasive fashion, as by using blood or urine.
Best publications:
Wu C, Wyatt AW, Lapuk AV, McPherson A, McConeghy BJ, Bell RH, Anderson S, Haegert A, Brahmbhatt S, Shukin R, Mo F, Li E, Fazli L, Hurtado-Coll A, Jones EC, Butterfield YS, Hach F, Hormozdiari F, Hajirasouliha I, Boutros PC, Bristow RG, Jones SJ, Hirst M, Marra MA, Maher CA, Chinnaiyan AM, Sahinalp SC, Gleave ME, Collins CC (2012) "Integrated genome, exome, and transcriptome analysis identifies a new and aggressive prostate cancer subtype" Journal of Pathology (in press) (PMID: 22294438)
"The International Cancer Genome Consortium" (2010) "International network of cancer genome projects" Nature 464(7291):993-998 (PMID: 20393554)
Boutros PC (2010) "A Linear Method for Cross-Platform Integration of Microarray Data" Cancer Informatics 9:197-208 (PMID: 20838609)
Boutros PC, Bielefeld KA, Pohjanvirta R, Harper PA (2009) "The Aryl Hydrocarbon Receptor Regulates Tissue-Specific Dioxin-Dependent and Dioxin-Independent Gene Batteries" Toxicological Sciences 112(1):245-256 (PMID: 19759094)
Boutros PC, Yan R, Moffat ID, Pohjanvirta R, Okey AB (2008) "Comparison of transcriptomic responses to 2,3,7,8-tetrachlorodibenzo-p-dioxin (TCDD) in mouse and rat liver" BMC Genomics 19(1):419 (PMID: 18796159)
Biomarkers, Prostate Cancer, Next-Gen Sequencing, Bioinformatics, Biostatistics, Circulating DNA.