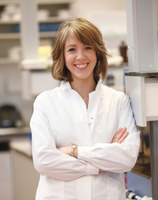 Dr Antoinette Perry
Position:
Senior Research Fellow, Department of Clinical Medicine, Trinity College Dublin
Credentials:
PhD at Trinity College Dublin
Biography:
Dr Antoinette Perry PhD graduated with a degree in Human Genetics in 2001 from Trinity College Dublin. In 2002, she was awarded a postgraduate scholarship from the Irish Research Council for Science, Engineering and technology to fund a PhD in prostate cancer epigenetics at Trinity College Dublin. She completed her PhD in 2006, and further developed her research interests into cancer epigenetics, focusing on the role of DNA methylation in modifying Wnt signalling in cancer. In 2009, Antoinette was awarded a post-doctoral fellowship from the Irish Cancer Society to explore the role of DNA methylation in regulating microRNA genes in prostate cancer.  In 2011, Antoinette was honoured to receive a Young Investigator Award from the Prostate Cancer Foundation, the first Irish person to receive such as accolade. Antoinette leads a research team focusing on translational prostate cancer epigenomics. Her major research interests are centred around bridging the gap between the pathogenesis of prostate carcinogenesis and molecular prognostic biomarkers through epigenomic aberrations, primarily DNA methylation and ncRNAs. She is involved in several major international collaborations including the Movember GAP1 urine biomarker project. She is a member of the Irish Prostate Cancer Research Consortium.
Best publications:
O'Rourke CJ, Murphy TM, Hollywood D, Perry AS. Mining the Methylome. Trends in Genetics (2013) 29(2) 63-5. PMID: 23182652.
Perry AS, O'Hurley G, Raheem OA, Brennan K, Wong S, O'Grady A, Kennedy AM, Marignol L,  Murphy TM, Sullivan L, Barrett C, Loftus B, Thornhill J, Hewitt SM, Lawler M, Kay E, Lynch T, Hollywood D. Gene expression and epigenetic discovery screen reveal transient expression of SFRP2 during prostate cancer progression. International Journal of Cancer (2013) 132(8):1771-80.PMID: 22915211.
Murphy TM, Lane C, O'Connor L, Lawler M Hollywood D, Lynch T and Perry A S. DHPLC screening strategy identifies novel apoptotic gene targets of aberrant promoter hypermethylation in prostate cancer.     The Prostate (2011) 71(1):1-17. PMID: 20564325.
Perry AS, Watson RW, Lawler M, Hollywood D. The Epigenome as a Therapeutic Target in Prostate Cancer. Nature Reviews Urology (2010) 7(12):668-80. PMID:21060342.
 Perry AS, Loftus B, Moroose R, Lynch TH, Hollywood D, Watson RW, Woodson K, Lawler M.   In silico mining identifies IGFBP3 as a novel target of promoter hypermethylation in prostate cancer.  British Journal of Cancer (2007) 96(10):1587-94. PMID: 17453001.
prostate cancer, epigenetics, DNA methylation, ncRNAs, exosomes, prognostic biomarkers.