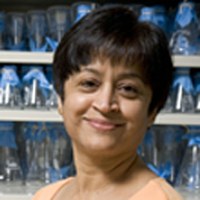 Professor Bharati Bapat, PhD
Position:
Scientist, Samuel Lunenfeld Research Institute, Mount Sinai Hospital
Scientist, Department of Pathology and Division of Urology, University Health Network
Professor, Department of Laboratory Medicine and Pathobiology, Department of Surgery, University of Toronto
Biography:
Current areas of collaboration: prostate cancer; molecular genetics, epigenetics; prognostic and predictive biomarkers; early detection; colon cancer.
Professor Bapat's research program is focused on translational genomics - specifically discovery and functional characterization of cancer biomarkers and their applications to clinical setting. A major area of current research is investigation of epigenetic markers of genitor-urinary and gastro-intestinal neoplasms using genome-wide interrogation strategies. Using an integrated, multidisciplinary approach, her lab has discovered novel epigenetic biomarkers of prostate cancer, and provided insight into their potential utility as diagnostic and / or prognostic markers. 
Related studies address functional significance of selected candidate genes and their epigenetic regulation in normal and disease states. Emerging initiatives are focused on the investigation of unique genetic and novel epigenetic profiles that will provide potential targets for therapeutic intervention, using genome-wide profiling and high-throughput technologies as well as pathway-based approaches. 
The ultimate goal of Dr Bapat's research is to translate findings into clinical practice by working with physician researchers and clinicians, to develop a personalized medicine approach to improve patients' health and well-being.
Best publications:
Kron K , Trudel D , Pethe V , Briollais L , Fleshner N , van der Kwast T , Bapat B. Altered DNA methylation landscapes of polycomb-repressed loci are associated with Gleason score and ERG oncogene expression in prostate cancer. Clinical cancer research, e-pub, April 2, 2013.
Savio AJ, Lemire M, Mrkonjic M, Gallinger S, Zanke BW, Hudson TJ, Bapat B. MLH1 region polymorphisms show a significant association with CpG island shore methylation in a large cohort of healthy individuals. PLoS One. 7(12): e51531.  Dec 13, 2012.
Olkhov-Mitsel, E., van der Kwast, T., Kron, KJ., Ozcelik, H., Briollais, L., Massaey, C., Recker, F., Kwiatkowski, M., Fleshner, NE., Diamandis, EP>, Zlotta, AR., Bapat, B. Quantitative DNA methylation analysis of genes coding for kallikrein-related peptidases 6 and 10 as biomarkers for prostate cancer. Epigenetics. 7(9): 1037-1045  Sept 1, 2012.
Liu, L., Kron, KJ, Pethe, VV., Demetrashvili, N., Nesbitt, ME., Trachtenberg, J., Ozcelik, H., Fleshner, NE., Briollais, L., van der Kwast, TH., Bapat. B. Association of tissue promoter methylation levels of APC, TGFB2, HOXD3, and RASSF1A with prostate cancer progression. Int J Cancer. 129 (10): 2454-2462. Nov 15, 2011.
Kron, K, Pethe, V, Briollais, L, Sadikovic, B, Ozcelik, H, Sunderji, A, Venkateswaran, V, Pinthus, J, Fleshner, N, van der Kwast, T, Bapat B.  Discovery of novel hypermethylated genes in prostate cancer using genomic CpG island microarrays. PLoS One. 4(3): e4830 (2009).
alternative treatment, biomarkers, cancer initiation, cancer progression, clinical, early detection, endogenous factors, epigenetics, exogenous factors, genes/genetic polymorphisms, marker discovery, marker evaluation, metastases, model systems, nutrition, oncogenes and tumour suppressor genes, prognosis, prostate cancer, surveillance, technology development.