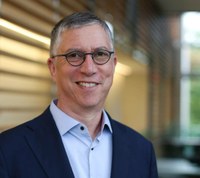 Professor David Berman
Position:
Professor and Head, Pathology and Molecular Medicine , Queen's University
Credentials:
Diplomate in Anatomic Pathology at American Board of Pathology
Websites:
Biography:
Dr. Berman earned his MD and PhD degrees at UT Southwestern Medical School in Dallas Texas. His dissertation work with Dr. David Russell focused on cloning and expression of human 5-alpha reductase enzymes. He went on to become resident and resident in Anatomic Pathology at The Johns Hopkins Hospital in Baltimore, Maryland. While at Johns Hopkins, Dr. Berman joined the laboratory of Dr. Philip Beachy, and investigated roles for the hedgehog signaling pathway in prostate development and cancer. He joined the faculty in the Department of Pathology at Johns Hopkins, where he initiated his medical practice as a urologic pathologist and launched an independent research laboratory focused on embryonic signaling pathways in bladder and prostate cancer. In 2012, Dr. Berman moved his laboratory and practice to Queen's University in Kingston, Ontario and shifted his laboratory focus to the discovery and validation of predictive and prognostic biomarkers in bladder and prostate cancer.
Best publications:
Andersson S, Berman DM, Jenkins EP, Russell DW. Deletion of steroid 5 alpha-reductase 2 gene in male pseudohermaphroditism. Nature 1991;354:159-161.

Berman DM

, Karhadkar SS, Hallahan AR, Pritchard JI, Eberhart CG, Watkins DN, Chen JK, Cooper MK, Taipale J, Olson JM, Beachy PA. Medulloblastoma growth inhibition by Hedgehog pathway blockade.

Science

2002;297:1559-1561.

Schaeffer EM, Marchionni L, Huang L, Simons B, Blackman A, Yu W, Parmigiani G, and Berman DM. Androgen induced programs for prostate epithelial growth and invasion arise in embryogenesis and are reactivated in cancer. Oncogene. 2008 27:7180. PMID 18794802
He X, Marchionni L, Hansel DE, Yu W, Sood A, Yang J, Parmigiani G, Matsui W, and Berman DM Differentiation of a highly tumorigenic basal cell compartment in urothelial carcinoma. Stem Cells. 2009 27:1487. PMCID: PMC3060766

Jamaspishvili T

,

Patel PG

, Niu Y, Vidotto T,

Caven I

,

Livergant R

,

Fu W

,

Kawashima A

,

How N

,

Okello JB

, Guedes LB, Ouellet V, Picanco C, Koti M, Reis RB, Saad F, Mes-Masson A-M, Lotan TL, Squire JA, Peng YP, Siemens DR, and

Berman DM

. Risk stratification of prostate cancer through quantitative assessment of PTEN loss (qPTEN).

J. Natl. Cancer Inst.

112:1098-1104 (2020). PMID: 32129857
Work Focus:
Work Focus (Biomedical):

Biomarkers, Genomics, Pathology

Work Focus (Clinical):

Genitourinary Surgical Pathology
Biomarkers, Gleason grading.