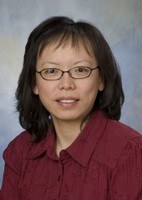 Dr C. Ellen Lee
Position:
Assistant Professor, Physical Therapy, University of Manitoba, School of Medical Rehabilitation
Research Affiliate, Centre on Aging
Websites:
Biography:
Dr Lee's research interests are in oncology rehabilitation and chronic pain management. Her current research program is focused on the prevention of secondary osteoporosis, and the improvement of physical, cognitive, and psychosocial functions of individuals with cancer through lifestyle intervention. Men with high risk, local or locally advanced prostate cancer often receive androgen depletion therapy (ADT) as a mainstay treatment. However, their physical, mental and social functions are adversely affected. As part of the oncology rehabilitation research program, studies investigating the efficacy of a home-based exercise/physical activity program in promoting bone health, physical, cognitive and psychosocial functions of men with prostate cancer receiving ADT are currently under way. Women with breast cancer undergoing chemotherapy and radiation therapy often have a number of treatment-related physical side effects and increased risk of other chronic diseases.  A home-based lifestyle modification program is a practical and effective method in reducing cancer-related treatment side effects. Yet various personal, behavioral, and environmental factors can influence the stages of readiness for change in individual's lifestyle. As part of the research program, a multidisciplinary lifestyle intervention program is currently being evaluated for its effectiveness in combating treatment-related side effects, and the potential in reducing breast cancer recurrence and risk of other chronic diseases.
Current areas of collaboration: nutrition; neurocognitive psychology; exercise physiology; radiology; health behavior; occupational therapy.
alternative treatment, behaviour, bone health, cancer control, chronic pain, education, exercise, healthcare delivery, lifestyle modification, nutrition, osteoporosis, physical function, prostate cancer, survivorship.