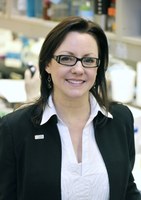 Professor Chantal Guillemette, Ph.D.
Position:
Full professor, Pharmacy, CHU Research Center, Laval University
Credentials:
Head, Pharmacogenomics laboratory at CHU Research Center
Canada Research Chair in Pharmacogenomics at CRC from Canadian Institutes of Health Research (CIHR)
Websites:
Biography:
Dre Chantal Guillemette is the director of the Pharmacogenomics Laboratory at Laval University and Centre Hostpitalier de l'Université Laval (CHU) de Québec Research Center.
She holds the Canada Research Chair in Pharmacogenomics (Tier I). She is one of Canada's pre-eminent pharmacogenomics researchers and a world leader in her field. Indeed, her laboratory has been at the forefront of the studies of pharmacogenomics of a large family of phase II UDP-GlucuronosylTransferases (UGTs). She is now established as a world leader in this field. Her groundbreaking discoveries in precision oncology that positioned my lab at the forefront of the global research on the most important pathway for the human body's elimination of frequently prescribed drugs, also regulating endogenous drivers of cancer such as steroids. Since starting as an independent researcher in 2000 after a postdoc at MIT, she has developed a unique and outstanding research program of world-class caliber funded by competitive grants from diverse agencies (over $20 millions). She has made considerable contributions in the area of phase II drug metabolism and pharmacogenomics, publishing over 125 peer-reviewed journals in top journals in the field of pharmacology, pharmacogenomics, metabolomics, proteomics and oncology, as well as more than 315 communications to national and international meetings. Since the last 5 years, over 50 peer-reviewed journals have been published. Furthermore, she offers a stimulating, productive and dynamic environment for graduate students and highly qualified personnel. She has superior records of attracting and supervising graduate students, postdoctoral fellows and HQPs (n=120 since 2000) while also educating health professionals with regard to personalized medicine and pharmacogenomics at Université Laval.
Her research related to prostate cancer : Identify novel prognostic markers of hormone-related cancers and design novel therapeutic interventions.
Dr Guillemette focus on two of the most frequent cancers in men and women; prostate cancer (PCa) and uterine/endometrial (EC) cancer. A common feature of these hormone-related cancers is our imperfect ability to efficiently predict the progression and metastatic behaviour of a patient's cancer.
Dr. Guillemette, in collaboration with a strong group of clinician-scientists, gynecologist, pathologists and urologists, focuses on the discovery of prostate cancer prognostic markers by exploiting the information provided by the host genome that ultimately contributes to dictate cancer cell behaviour (i.e. host-tumour cells interaction). In addition, emboldened by the unique expertise of Dr. Guillemette in mass spectrometry-based targeted metabolomics of sex-steroid hormones (adrenal precursors, androgens, estrogens and their metabolites (conjugated and unconjugated)), the metabolic profiling of prostate cancer patients (circulating, urinary and tissue levels), will create a powerful tool to better understand pathophysiological processes and test their relevance as prognostic tools. This will be possible owing to our unique access to multiple independent prostate cancer cohorts (with localized and more advanced diseases; >3600 patients) with long-term follow-up (>7.5 years) for the replication of findings, which will strongly help our efforts to produce clinically relevant results. 
Findings from this research will distinguish patients with indolent prostate cancer, who can safely forego treatment, from those with aggressive disease who are most susceptible to relapse, as well as those who would benefit from additional interventions, such as adjuvant radiotherapy or androgen deprivation therapy. 
Her work also identifies UGT2B enzymes as disease accelerators - For instance, results are reported in a recent publication that appeared in European Urology 2015 with Dr Éric Lévesque. In fact, Dr Lévesque cloned androgens-inactivating UGT2Bs and also produced unique tools to address the function of UGT enzymes namely in prostate cancer (such as specific antibodies EL-93 and EL-95). 
Best publications:
The UGT1 locus is a determinant of prostate cancer recurrence after prostatectomy.
Laverdière I, Flageole C, Audet-Walsh É, Caron P, Fradet Y, Lacombe L, Lévesque É, Guillemette C.
Endocr Relat Cancer. 2015 Feb;22(1):77-85
Steroidogenic germline polymorphism predictors of prostate cancer progression in the estradiol pathway.
Lévesque E, Laverdière I, Audet-Walsh E, Caron P, Rouleau M, Fradet Y, Lacombe L, Guillemette C.
Clin Cancer Res. 2014 Jun 1;20(11):2971-83
Importance of 5α-reductase gene polymorphisms on circulating and intraprostatic androgens in prostate cancer.
Lévesque É, Laverdière I, Lacombe L, Caron P, Rouleau M, Turcotte V, Têtu B, Fradet Y,Guillemette C.
Clin Cancer Res. 2014 Feb 1;20(3):576-84
Molecular markers in key steroidogenic pathways, circulating steroid levels, and prostate cancer progression.
Lévesque É, Huang SP, Audet-Walsh É, Lacombe L, Bao BY, Fradet Y, Laverdière I, Rouleau M, Huang CY, Yu CC, Caron P, Guillemette C.
Clin Cancer Res. 2013
The impact of germline genetic variations in hydroxysteroid (17-beta) dehydrogenases on prostate cancer outcomes after prostatectomy.
Audet-Walsh É, Bellemare J, Lacombe L, Fradet Y, Fradet V, Douville P, Guillemette C, Lévesque É.
Eur Urol. 2012
Deletions of the androgen-metabolizing UGT2B genes have an effect on circulating steroid levels and biochemical recurrence after radical prostatectomy in localized prostate cancer.
Nadeau G, Bellemare J, Audet-Walsh É, Flageole C, Huang SP, Bao BY, Douville P, Caron P, Fradet Y, Lacombe L, Guillemette C, Lévesque E.
J Clin Endocrinol Metab. 2011
SRD5A polymorphisms and biochemical failure after radical prostatectomy.
Audet-Walsh E, Bellemare J, Nadeau G, Lacombe L, Fradet Y, Fradet V, Huang SP, Bao BY, Douville P, Girard H, Guillemette C, Lévesque E.
Eur Urol. 2011
Correlation between circulatory, local prostatic, and intra-prostatic androgen levels.
Olsson M, Ekström L, Guillemette C, Belanger A, Rane A, Gustafsson O.
Prostate. 2011
...
Evidence for a role of glucuronosyltransferase in the regulation of androgen action in the human prostatic cancer cell line LNCaP.
Pharmacogenomics and personalized medicine, Steroidogenesis, Endocrinology, Mass spectrometry, Sex-steroid hormones.