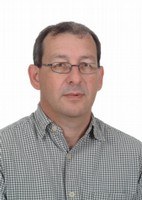 Professor Donald Poirier
Position:
Professor, Department of Molecular Medicine, Laval University and CHUQ (CHUL) - Research Centre, Faculty of Medicine
Researcher, CHUQ (CHUL) - Research Center, Quebec City
Websites:
Biography:
Dr. Donald Poirier received his basic training in organic chemistry (PhD at University Laval, 1980-1985) and subsequently specialized in medicinal chemistry and endocrinology (Post-PhD at CHUL Research Center, 1986-1990), and more recently in solid phase synthesis of small molecules of therapeutic interest. He is especially interested in the development of steroidogenic enzymes (17b-HSDs, steroid sulfatase) inhibitors and antitumor agents for the treatment of different cancers (breast, prostate and leukemia). In addition to synthesis of small molecules by classical chemistry, he recently succeeded by developing solid-phase synthesis of C18-steroid (estrane) derivatives as well as C19-steroid (androstane) derivatives that enabled the generation of model libraries of targeted therapeutic compounds. Thus, he developed a new sulfamate linker for combinatorial solid-phase synthesis that produces two classes (phenol and sulfamate) of relevant steroidal or nonsteroidal compounds according to the conditions of cleavage.
He is also interested to additional aspects of organic chemistry (synthesis, new methodologies, NMR analysis, etc.) and medicinal chemistry (SAR and QSAR analysis, molecular modelisation, biological assays, etc.). He has been at the Department of Molecular Medicine since July 1991.
androgen action, androgen independence, androgen receptor, cancer initiation, chemoprevention, exogenous factors, marker discovery, model systems, oncogenes and tumour suppressor genes, patient care, survivorship, systemic therapies, technology development, medicinal chemistry, enzymes, inhibitors, steroids, steroid sulfatase, hydroxysteroid dehydrogenase.