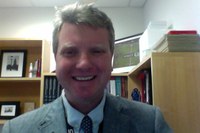 Associate Professor Stephen Finn, MB PhD FRCPath
Position:
Associate Professor of Pathology and Consultant Pathologist, Histopathology, Trinity College Dublin and St. James's Hospital
Credentials:
Websites:
Biography:
Dr. Stephen Finn MB BAO BCh FDS PhD FRCPath FFPATH, is Associate Professor, Consultant Pathologist and Principal Investigator at The University of Dublin, Trinity College and at St. James's Hospital Dublin, the latter a tertiary referral cancer institution. He is Director of the Cancer Molecular Diagnostic Laboratory; the only fully accredited molecular diagnostic laboratory in Ireland and the largest. His clinical practice is limited to Urological and molecular pathology. Dr. Finn is former Senior Scientist and Staff Pathologist to the Centre for Molecular Oncologic Pathology at the Dana Farber Cancer Institute, Boston, USA and is a member of the Irish Prostate Cancer Research Consortium (PCRC).  Dr. Finn, a current recipient of the Prostate Cancer Foundation Young investigator Award, is also a Co-PI on a current PCF Challenge Award. Dr. Finn had research interests in the following areas, patho-epidemiology of prostate cancer, obesity and diet related to prostate cancer outcome, Circulating Tumor Cells in Prostate Cancer (Movember funded), non-coding RNA and stem cell signatures in aggressive prostate cancer. He is on the steering committee of TOPCAP (www.Topcapteam.org) 
Best publications:
Firestein R, Bass AJ, Kim SY, Dunn IF, Silver SJ, Guney I, Freed E, Ligon AH, Vena N, Ogino S, Chheda MG, Tamayo P, Finn S, Shrestha Y, Boehm JS, Jain S, Bojarski E, Mermel C, Barretina J, Chan JA, Baselga J, Tabernero J, Root DE, Fuchs CS, Loda M, Shivdasani RA, Meyerson M, Hahn WC. CDK8 is a colorectal cancer oncogene that regulates beta-catenin activity. Nature. 2008 Sep 25;455(7212):547-51.
Migita T, Ruiz S, Fornari A, Fiorentino M, Priolo C, Zadra G, Inazuka F, Grisanzio C, Palescandolo E, Shin E, Fiore C, Xie W, Kung AL, Febbo PG, Subramanian A, Mucci L, Ma J, Signoretti S, Stampfer M, Hahn WC, Finn S, Loda M. Fatty acid synthase: a metabolic enzyme and candidate oncogene in prostate cancer. J Natl Cancer Inst. 2009 Apr 1;101(7):519-32.
Stark JR, Perner S, Stampfer MJ, Sinnott JA, Finn S, Eisenstein AS, Ma J, Fiorentino M, Kurth T, Loda M, Giovannucci EL, Rubin MA, Mucci LA. Gleason score and lethal prostate cancer: does 3 + 4 = 4 + 3? J Clin Oncol. 2009 Jul 20;27(21):3459-64
Du J, Bernasconi P, Clauser KR, Mani DR, Finn SP, Beroukhim R, Burns M, Julian B, Peng XP, Hieronymus H, Maglathlin RL, Lewis TA, Liau LM, Nghiemphu P, Mellinghoff IK, Louis DN, Loda M, Carr SA, Kung AL, Golub TR. Bead-based profiling of tyrosine kinase phosphorylation identifies SRC as a potential target for glioblastoma therapy. Nat Biotechnol. 2009 Jan;27(1):77-83
Finn S, Smyth P, O'Regan E, Cahill S, Toner M, Timon C, Flavin R, O'Leary J, Sheils O. Low-level genomic instability is a feature of papillary thyroid carcinoma: an array comparative genomic hybridization study of laser capture microdissected papillary thyroid carcinoma tumors and clonal cell lines. Arch Pathol Lab Med2007 Jan;131(1):65-73.
Prostate, Predictive Biomarkers, Non coding RNA, Circulating Tumour Cells.