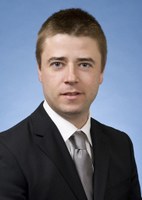 Dr Frederic Pouliot, MD PhD FRCSC
Position:
Assistant Professor, Department of Surgery, Urology Division, Université Laval
Biography:
For many years, Dr Pouliot wanted to become a clinical-scientist specializing in translational medicine. This is why he has pursued a PhD in Physiology and Endocrinology at the Laval University Hospital Center.  Technically, his expertises developed during his PhD in gene transcription and molecular biology. He pursued his PhD in parallel to his MD degree and obtained MD and PhD degrees in 2003 and 2004, respectively. He then pursued a residency in Urology at Laval University, which gave him the title of Fellow of the Royal College of Surgeons of Canada in 2008. Since 2008, he has been doing a fellowship in urologic oncology at the Institute of Urologic Oncology at UCLA, a branch of the Department of Urology. His research projects during his fellowship were on molecular imaging of prostate cancer cells using a promoter driven transcriptional amplification systems, named TSTA. Technically, he has acquired an expertise in several localized and metastatic prostate cancer mouse models, as well as in gene therapy and molecular imaging.  Hence, he has learned and developed techniques to image small and large mammals by bioluminescence, biofluorescence and/or microPET-CT. The translational experience that he has acquired at UCLA is in line with his plans to become a specialist in urologic oncology translational research, especially in molecular imaging. His research interests as a clinical scientist are in molecular imaging of localized low risk and recurrent prostate cancers. He is using the TSTA system to develop new imaging tools to detect more specifically prostate cancer cells by PET-CT in pre-clinical models in order to improve patients' staging before treatment decisions.
Current areas of collaboration: Dr Pouliot mainly collaborates with Dr Lily Wu, who is his mentor at UCLA in molecular imaging using the TSTA molecular imaging system. They are working together to translate this technology to the clinics within the next two years. He is also a part of the urologic oncology group at Laval University that is led by Dr Yves Fradet. Dr Pouliot has a strong collaboration with all members of this group. The group also has many international collaborations in prostate and bladder cancer research.
PSA, gene therapy, marker discovery, technology development, molecular imaging, intraprostatic imaging, positron emission tomography.