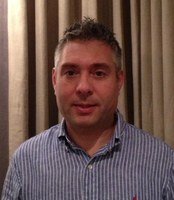 Dr Gaetano Zafarana
Position:
Scientific Associate, Radiation Oncology and Medical Biophysics, University Health Network, Princess Margaret Hospital/Ontario Cancer Institute
Websites:
Biography:
Dr Gaetano Zafarana received his Honours Degree in Biochemistry and Molecular Biology from University College London.
During his undergraduate degree, he trained at the Biochemistry Department of Charing Cross Hospital, London, UK and the Ludwig Institute for Cancer Research, London, UK. He then moved to the National Institute of Medical Research, Mill Hill, London, UK to start his PhD on the regulation of the human embryonic b-globin genes.
He completed his Doctoral Thesis at the Department of Genetics and Cell Biology of the Erasmus Medical Centre in Rotterdam, The Netherlands, where he had relocated to follow his supervisor. He then moved to the field of Testicular Germ Cell Tumours for his first post-doctoral position at the Department of Pathology in the Josephine Nefkens Institute of the Erasmus Medical Centre, Rotterdam.
His second postdoctoral position brought him back to the UK at the Department of Biomedical Science, Centre for Stem Cell Biology, the University of Sheffield, where he applied his expertise to the field of human embryonic stem cells.
In 2009, Dr Zafarana moved to Toronto, Canada, where he manages the Core 1 of the STTARR facility at the Toronto Medical Discovery Tower, part of University Health Network. His current research interests include translational studies on the genetics of intermediate prostate cancers and the isolation and characterization of the stem cells of prostate cancer in view to improve and personalize the treatment of prostate cancer in patients.
Best publications:
Locke JA, Zafarana G, Ishkanian AS, Milosevic M, Thoms J, Have CL, Malloff CA, Lam WL, Squire JA, Pintilie M, Sykes J, Ramnarine VR, Meng AX, Ahmed O, Jurisica I, van der Kwast T, Bristow RG. NKX3.1 haploinsufficiency is prognostic for prostate cancer relapse following surgery or image-guided radiotherapy. Clin Cancer Res. 2012 Jan 1. Zafarana G., Ishkanian A.S., Malloff C.A., Locke J.A., Sykes J., Thoms J., Lam W.L., Squire J.A., Yoshimoto M., Ramnarine V.R., Meng A., Ahmed O., Jurisca I., Milosevic M., Pintilie M., van der Kwast T., Bristow R.G. Copy number alterations of c-MYC and PTEN are prognostic factors for relapse following prostate cancer radiotherapy. Cancer, 2012 Jan 26. Avery SR, Zafarana G and Andrews PW. TGF-B signaling via SMAD4 serves to stabilize human embryonic stem cells cultures. Stem Cells. 2010 May;28(5):863-73. Zafarana G, Avery SR, Avery K, Moore HD and Andrews PW. Specific knockdown of OCT4 in human embryonic stem cells by inducible shRNAi. Stem Cells. 2009 Apr;27(4):776-82. Zafarana G, Rottier R, Grosveld F, Philipsen S.   Erythroid overexpression of C/EBP in transgenic mice affects globin expression and fetal liver erythropoiesis. EMBO J. 2000 19(21):5856-63
Prostate Cancer Genomics, Tumor Initiating Cells, In vivo models, In vitro models.