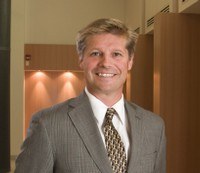 Dr Martin Gleave, MD, FRCSC, FACS
Position:
Executive Director, Vancouver Prostate Centre, University of British Columbia
Distinguished Professor, Deptartment of Urologic Sciences, University of British Columbia
Liber Ero BC Leadership Chair, Prostate Cancer Research
Chief Executive Officer, PC-TRiADD
Chair, GU Tumour Group, BC Cancer Agency
Chair, Canadian Urologic Oncology Group
Websites:
Biography:
Dr Martin Gleave is a Distinguished Professor and Vice Chair of the Department of Urologic Sciences at the University of British Columbia (UBC), Director of the Vancouver Prostate Centre, and a British Columbia Leadership Chair.  He has published more than 340 papers with more than 14,000 citations, has an H-Index of 68, and has attracted more than $80M in research funding.
Dr Gleave's research characterizes molecular mechanisms mediating treatment resistance in cancer, focusing on stress-activated adaptive responses that drive acquired treatment resistance, and designing rational combination co-targeting strategies to create conditional lethality and improve cancer control.
He has patented several anti-cancer drugs and, in 2001, founded OncoGenex Pharmaceuticals to develop OGX-011, an inhibitor of the cell survival gene, clusterin, that potentiates anti-cancer therapies in many cancer models. OGX-427 is another agent targeting Hsp27 that has demonstrated single agent activity in Phase II studies of castrate resistant prostate cancer and bladder cancer.
Dr Gleave is the recipient of numerous awards, including the National Cancer Institute of Canada's prestigious William Rawls Award for contributions to cancer control in Canada; the Barringer Medal from the American Association of GU Surgeons; and the Eugene Fuller Award from the American Urological Association in 2013.
Current areas of collaboration: animal models; expression profiling; sequencing..