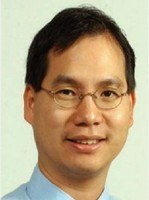 Dr Yiu-Keng (James) Lau
Position:
Assistant Professor, Internal Medicine, University of Manitoba
Affiliated Member, Manitoba Institute of Cell Biology
Medical Oncologist, CancerCare Manitoba
Research Affiliate, Centre on Aging, University of Manitoba
Biography:
In northern countries such as Canada, exposure to sunlight is limited during the winter months. Combined with low diet intake of Vitamin D, there is a high incidence of Vitamin D deficiency. Vitamin D deficiency correlates with an increase in the incidence and mortality of many solid tumors, including prostate cancer. There are still many ill-defined aspects of vitamin D in relationship to prostate cancer. For example, it is not clear whether low serum vitamin D level is associated with more aggressive prostate cancer or recurrence of disease, and there are few data on how vitamin D may inhibit prostate cancer progression. Recent research studies have demonstrated that the metabolite of vitamin D, calcitriol, have antiproliferative and differentiation‐promoting effects on prostate cancer cells in vitroand in animal models. In addition, studies have identified that certain single nucleotide polymorphisms (SNP) of the vitamin D receptor may be associated with increased incidence and aggressiveness of prostate cancer. It is postulated that influence of low concentrations of vitamin D on the incidence of prostate cancer may differ according these genetic changes in vitamin D receptors. There are only few studies addressing the joint association of serum vitamin D levels, vitamin D receptor polymorphism, and prostatecancer and none are population-based. The long term goal of this proposal study is to determinethe amount of Vitamin D deficiency and changes in Vitamin D receptor in prostate cancer patients in Manitoba. This could lead to strategies to combat Vitamin D deficiencies in prostate cancer patients.
The objectives of our study:
1. To determine the five-year survival of men diagnosed with prostate cancer in Manitoba between 2004 and 2008
2. To examine whether there is a positive association between the serum vitamin D levels and aggressiveness of prostate cancer in Manitoba.
3. To identify frequency of specific DNA sequence variations in vitamin D receptor in prostate cancer patients.
Current Areas of Collaboration: exercise in men with prostate cancer receiving androgen deprivation therapy; EGF and androgen in prostate cancer metastasis.
alternative treatment, androgen receptor, chemoprevention, epithelial-mesenchymal transition, genes/genetic polymorphisms, metabolic syndrome, metastases, prostate cancer, vitamin D.

Manitoba Prostate Tumor Bank.