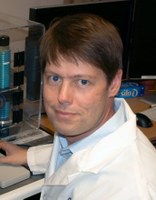 Dr John Lewis
Position:
Frank and Carla Sojonky Chair in Prostate Cancer Research, Department of Oncology, University of Alberta
Associate Professor, Department of Oncology, University of Alberta
Fellow, National Institute of Nanotechnology
Chair, Alberta Prostate Cancer Research Initiative
Websites:
Biography:
Dr Lewis's research program utilizes intravital imaging of the tumour microenvironment to functionally elucidate the "switches" of tumorigenesis, namely tumour neoangiogenesis and the acquisition of tumour cell motility.
He is investigating novel nanoparticles that are being developed for the early detection of prostate cancer, drug delivery, and the in vivo study of tumour cell invasion and metastasis.
These intimately related projects are facilitated by an integrated research platform for long term time-lapse intravital imaging of human cancer progression.
Dr Lewis holds a PhD in biochemistry from the University of Victoria, BC, and did his postdoctoral training at The Scripps Research Institute in La Jolla, California.
intravital imaging, metastasis, tumour cell migration, nanoparticles, targeted drug delivery.