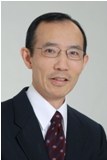 Dr Joseph Chin
Position:
Professor, Urology & Oncology, University of Western Ontario
Chair, Division of Surgical Oncology, University of Western Ontario
Affiliate, London Health Sciences Centre
Affiliate, Robarts Research Institute
Affiliate, Lawson Health Research Institute
Biography:
Dr Chin graduated from the University of Toronto, Faculty of Medicine and completed his Urology training at the University of Western Ontario in 1983, becoming a Fellow of the Royal College of Physicians and Surgeons of Canada that year. He completed a Uro-oncology Fellowship at Roswell Park Cancer Institute in New York State and a Renal Transplantation Fellowship at the University of Western Ontario before joining the faculty at Western. He had been Professor & Chair of the Division of Urology at the University of Western Ontario for 12 years and is now Chair of the Division of Surgical Oncology and Head of the Provincial Surgical Oncology Program for the Southwestern Ontario Region. Dr. Chin is currently Chair of the Royal College of Physicinas and Surgeons of Canada Specialty Committee in Urology, responsible for the Training and Evaluation of Canadian Urology Residents. Dr. Chin has received many research grants from international and national granting agencies. His laboratory and clinical research interests are in prostate cancer management, including minimally invasive and alternative forms of management. His clinical practice at London Health Sciences Centre is concentrated in Urologic Oncology.He has been a Canadian leader in such procedures as robotic assisted laparoscopic prostatectomy, cryosurgery and High Intensity Focused Ultrasound for prostate cancer. Dr. Chin is an Editorial Board member of several major international Urology journals. He has published over 200 research papers and book chapters, mostly in the area of uro-oncology.
Current areas of collaboration: advanced imaging; image-guided targeted therapy; nano-imaging; tumour markers.
3-D Ultrasound, HIFU, clinical trials, cryosurgery, imaging, robotic surgery, targeted therapy.