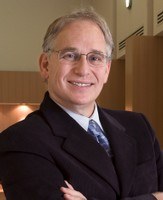 Dr Larry Goldenberg
Position:
Professor and Head, Department of Urologic Sciences, University of British Columbia
Director of Development, The Vancouver Prostate Centre, University of British Columbia
Active Staff, Department of Urology, Vancouver General Hospital
Consultant Urologist, Deptartment of Urology, University of Washington
Co-founder, Canadian Urologic Oncology Group
Websites:
Biography:
Dr Larry Goldenberg received his medical degree in 1978 from the University of Toronto, and became a fellow of the Royal College of Surgeons of Canada in 1984, following urology residency at the University of British Columbia (UBC). He is the founding Director of the Vancouver Prostate Centre and is now Professor and Head of the Department of Urologic Sciences at UBC. Dr Goldenberg is a Past-President of the Canadian Urological Association, the Western Section, American Urological Association, the NorthWest Urological Society, and the Canadian Academy of Urologic Surgeons. He has been co-Chairman of the annual Issues and Controversies in Prostate Care conference for 15 years. In 2006 he was recognized for his contributions to health care in BC by being inducted into the Order of British Columbia, and was appointed a member of the Canadian Academy of Health Sciences. In September 2008 he was awarded the British Columbia Innovation Council's " Science and Technology Champion of the Year". In February 2009 he was made an honorary member of the AUA and in December 2009 he received the Order of Canada, his nation's highest award of merit for lifetime achievement.
Current areas of collaboration: diagnostics and therapeutics.
Work Focus:
Work Focus (Clinical):

clinician, urology
cancer control, cancer progression, diagnosis, etiology, metastases, prognosis, scientific model systems, survivorship, treatment, men's health.