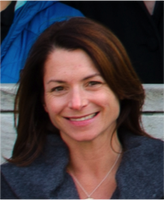 Dr Lorelei Mucci
Position:
Associate Professor, Department of Epidemiology, Harvard School of Public Health
Visiting Professor, Division of Public Health Sciences, Harvard School of Public Health, University of Iceland
Credentials:
ScD at Harvard School of Public Health
Websites:
Biography:
Dr Mucci is a cancer epidemiologist with more than ten years of research and teaching experience.  She is an Associate Professor of Epidemiology at the Harvard School of Public Health and lead the Cancer Epidemiology program at the Dana Farber/Harvard Cancer Center (DF/HCC).
Her research has focused on biomarker studies investigating the etiology of cancer risk as well as studying lifestyle and molecular factors associated with cancer progression. Over the past eight years, her research focus has turned to prostate cancer tumour biomarkers.
Dr Mucci is Principal Investigator of several funded grants across various aspects of prostate cancer etiology, molecular subclassification and prognostication. She led the tumour biorepositories of 3,000 prostate cancer patients who are participants in the Physicians' Health Study and the Health Professionals Follow-up Study.  Moreover, she is co-leader of a multi-disciplinary, international prostate cancer patho-epidemiology collaboration of researchers at Harvard as well as medical institutions in Sweden, Iceland, Ireland and Italy.
Dr Mucci's research includes studies focused on immunohistochemistry and large-scale genome wide expression profiling study within large cohorts of men with prostate cancer. Teaching and mentoring has been a core component of her academic work. She has mentored of 25 graduate students, post-doctoral fellows and clinical fellows, and served as co-Director of a peer-mentoring program of 40 fellows and instructors.
Best publications:
Penney KL, Sinnott JA, Fall K, Pawitan Y, Hoshida Y, Kraft P, Stark JR, Fiorentino M, Perner S, Finn S, Calza S, Flavin R, Freedman ML, Sesso H, Setlur S, Andersson SO, Martin N, Kantoff PW, Johansson JE, Adami HO, Rubin MA, Loda M, Golub TR, Andren O, Stampfer MJ, Mucci LA. An mRNA expression signature of Gleason grade predicts lethal prostate cancer.  J Clin Oncol. 2011 Jun 10;29(17):2391-6.  PubMed Central PMCID: PMC3107753.
Wilson KM, Kasperzyk JL, Stark JR, Kenfield S, van Dam RM, Stampfer MJ, Giovannucci EL, Mucci LA. Coffee consumption and prostate cancer risk and progression in the Health Professionals Follow-up Study. J Natl Cancer Inst. 2011 Jun 8;103(11):876-84. PubMed Central PMCID: PMC3110172.

Fiorentino M, Judson G, Penney K, Flavin R, Stark J, Fiore C, Fall K, Martin N, Ma J, Sinnott J, Giovannucci E, Stampfer M, Sesso HD, Kantoff PW, Finn S, Loda M,

Mucci LA

. Immunohistochemical expression of BRCA1 and lethal prostate cancer. Cancer Res. 2010 Apr 15; 70 (8) :3136-9. PubMed PMID:20388772; PubMed Central PMCID: PMC3049266.

Ding Z, Wu CJ, Chu GC, Xiao Y, Ho D, Zhang J, Perry SR, Labrot ES, Wu X, Lis R, Hoshida Y, Hiller D, Hu B, Jiang S, Zheng H, Stegh AH, Scott KL, Signoretti S, Bardeesy N, Wang YA, Hill DE, Golub TR, Stampfer MJ, Wong WH, Loda M,

Mucci L

, Chin L and DePinho RA. SMAD4-dependent barrier constrains prostate cancer growth and metastatic progression. Nature 2011;470(7333):269-73.

Stark JR, Judson G, Alderete JF, Mundodi V, Kucknoor AS, Giovannucci EL, Platz EA, Sutcliffe S, Fall K, Kurth T, Ma J, Stampfer MJ and Mucci LA. Prospective study of Trichomonas vaginalis infection and prostate cancer incidence and mortality: Physicians' Health Study. J Natl Cancer Inst 2009;101(20):1406-11. PubMed Central PMCID: PMC2765259.
Epidemiology, Tumor Biomarkers, Survivorship.