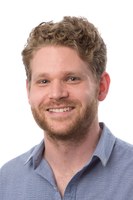 Dr Mitchell Lawrence
Position:
Postdoctoral Fellow, Department of Anatomy and Developmental Biology, Monash University
Biography:
Dr Lawrence completed his PhD with Prof Judith Clements at the Australian Prostate Cancer Research Centre-Queensland, Queensland University of Technology.
In 2010, he joined Monash University to work with Dr Caroline Gargett and Prof Gail Risbridger. Dr Lawrence is funded by an NHMRC Early Career Fellowship and a Movember Young Investigator Grant awarded through Prostate Cancer Foundation of Australia's Research Program.
The focus of Dr Lawrence's research is the tumour microenvironment - in particular, defining the differences between normal prostate fibroblasts and cancer-associated fibroblasts.  These studies involve flow cytometry of fresh patient specimens and primary cell culture.
Best publications:
Mitchell G. Lawrence, Renea A. Taylor, Roxanne Toivanen, John Pedersen, Sam Norden, David W. Pook, Mark Frydenberg, Australian Prostate Cancer BioResource, Melissa M. Papargiris, Birunthi Niranjan, Michelle G. Richards, Hong Wang, Anne T. Collins, Norman J. Maitland, Gail P. Risbridger (2013) A preclinical xenograft model of prostate cancer using human tumours. Nature Protocols, 8(5):836-48.
Shirin Hussain, Mitchell Lawrence, Renea Taylor, Camden Yeung-Wah Lo, APC BioResource, Mark Frydenberg, Stuart Ellem, Luc Furic, Gail Risbridger (2012) Estrogen Receptor β Activation Impairs Prostatic Regeneration By Inducing Apoptosis In Murine and Human Stem/Progenitor Cells. PLoS One, 7(7):e40732.
Mitchell Lawrence, Carson Stephens, Eleanor Need, John Lai, Grant Buchanan and Judith Clements. (2012) Long Terminal Repeats Act as Androgen-Responsive Enhancers for the PSA-Kallikrein Locus. Endocrinology, 153(7):3199-210.
Mitchell Lawrence, Naira Margaryan, Daniela Loessner, Angus Collins, Kris Kerr, Megan Turner, Elisabeth Seftor, Carson Stephens, John Lai, APC BioResource, Lynne-Marie Postovit, Judith A. Clements and Mary J.C. Hendrix. (2011) Reactivation of Embryonic Nodal Signaling is Associated with Tumor Progression and Promotes the Growth of Prostate Cancer Cells. The Prostate. Aug 1;71(11):1198-209.
Mitchell Lawrence, John Lai, Judith Clements. (2010) Kallikreins on Steroids: Structure Function and Hormonal Regulation of Prostate-Specific Antigen and the Extended Kallikrein Locus. Endocrine Reviews. 31(4):407-46.
Androgen receptor signalling, Tumour microenvironment, Cancer-associated fibroblasts.