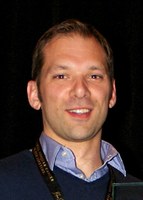 Dr Mathieu Lupien
Position:
Scientist/Assistant Professor, Medical Biophysics, University Health Network, Princess Margaret Cancer Centre
Credentials:
Assistant Professor at University of Toronto
Websites:
Biography:
Dr. Mathieu Lupien has been a scientist at the Princess Margaret Cancer Centre since 2012 and is an assistant professor in the Department of Medical Biophysics at the University of Toronto. He also has a cross-appointment with the Ontario Institute for Cancer Research (OICR). He earned his Ph.D. at McGill University (Montreal, Canada) in 2005, followed by post-doctoral training in medical oncology at the Dana-Farber Cancer Institute, Harvard Medical School (Boston, MA) as an Era of Hope fellow. Dr. Lupien completed his post-doctoral training in 2008 and was recruited as a faculty member at the Dartmouth Medical School (Hanover, NH) in 2009, where he became Director of the Quantitative Epigenomics Laboratory. Dr. Lupien has co-authored numerous peer-reviewed publications, including seminal work reported in high-impact journals including Science, Cell, Nature Genetics and The Journal of the National Cancer Institute. Among other honours, Dr. Lupien is a recipient of the Young Investigator Award from the OICR, the New Investigator Salary Award from CIHR, The Rising Star in Prostate Cancer Research award from PCC/Movember and the Till and McCulloch Discovery of the Year award.
Best publications:
http://www.ncbi.nlm.nih.gov/pubmed/?term=lupien+m+NOT+lupien+ma+NOT+lupien+mj
Epigenetic basis of prostate cancer, Functional genomics of prostate cancer, Characterization of genetic alterations in prostate cancer, Biomarker discovery for aggressive prostate cancer.