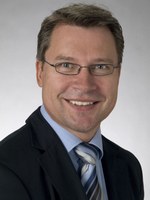 Professor Klaus Pantel
Position:
Professor, Director, Department of Tumor Biology, University of Hamburg, University Medical Center Hamburg-Eppendorf
Credentials:
Habilitation: Dr.med.habil. at Ludwig-Maximillians-Universitaet, Medical Dept, Institute of Immunology, Germany
Doctorate: Dr.med. (Medicine) at University of Cologne, Medical Clinic I, Germany
Doctor of Medicine (M.D.) at University of Cologne, School of Medicine, Germany
Websites:
Biography:
Prof Dr Klaus Pantel is Professor of Medicine and Director of the Department of Tumour Biology at the University Medical Centre Hamburg-Eppendorf (UKE). He also served as Deputy Director of the Centre of Experimental Medicine, and as Professor of Molecular Genetics and Head of the Molecular Oncology in the Department of Gynaecology and Obstetrics at the UKE.
Prior to joining the UKE he held appointments as Associate Professor, as Research Scientist and Head of the Micrometastasis Research Laboratory and as Scientific Head of the Animal Care Unit at the Institute for Immunology at the Ludwig Maximilians University of Munich. He also served as Head of the Project Group Early Metastasis of Epithelial Tumours at the Tumour Centre Munich.
His research focuses mainly on CTC/DTC detection and characterization (CTCs: circulating tumour cells/DTCs: disseminated tumour cells). He is also interested in the epigenetic regulation of tumorigenesis and stem cell differentiation and in the identification and the structural and functional characterization of tumour-associated genes. Further topics of his research are tumour-stroma interactions, circulating cell-free nucleic acids, tumour immunology and the identification and functional characterization of metastasis-associated genes.
Prof Pantel is co-founder of the Micromet GmbH in Martinsried (since 1994) and was coordinator of the Oncology Research Program at the UKE from 2002 to 2008. He is member of the editorial boards of various scientific journals and also serves as reviewer for numerous funding agencies (including Deutsche Forschungsgemeinschaft, Deutsche Krebshilfe) and scientific journals. Among other professional memberships Prof Pantel is member of the German Cancer Society and the American Association for Cancer Research. Furthermore he is recipient of various awards (including the German Cancer Award 2010 and the AIO Medical Oncology Award 2008).
Best publications:
Schwarzenbach H, Alix-Panabieres C, Muller I, Letang N, Vendrell JP, Rebillard X, Pantel K. Cell-free tumor DNA in blood plasma as a marker for circulating tumor cells in prostate cancer. Clin Cancer Res 2009;15: 1032-8.
Kollermann J, Weikert S, Schostak M, Kempkensteffen C, Kleinschmidt K, Rau T, Pantel K. Prognostic significance of disseminated tumor cells in the bone marrow of prostate cancer patients treated with neoadjuvant hormone treatment. J Clin Oncol 2008;26: 4928-33.
Pantel K, Brakenhoff RH, Brandt B. Detection, clinical relevance and specific biological properties of disseminating tumour cells. Nature Rev Cancer 2008;8: 329-40.
Braun S, Vogl FD, Naume B, Janni W, Osborne MP, Coombes RC, Schlimok G, Diel IJ, Gerber B, Gebauer G, Pierga JY, Marth C, Oruzio D, Wiedswang G, Solomayer EF, Kundt G, Strobl B, Fehm T, Wong GY, Bliss J, Vincent-Salomon A, Pantel K. A pooled analysis of bone marrow micrometastasis in breast cancer. N Engl J Med 2005;353: 793-802.
Solakoglu O, Maierhofer C, Lahr G, Breit E, Scheunemann P, Heumos I, Pichlmeier U, Schlimok G, Oberneder R, Kollermann MW, Kollermann J, Speicher MR, Pantel K. Heterogeneous proliferative potential of occult metastatic cells in bone marrow of patients with solid epithelial tumors. Proc Natl Acad Sci U S A 2002;99: 2246-51.
CTC,, DTC,, epigenetic regulation of tumorigenesis,, stem cell differentiation,, identification and the structural and functional characterization of tumor-associated genes,, tumor-stroma interactions,, circulating cell-free nucleic acids,, tumor immunology and the identification,, functional characterization of metastasis-associated genes..