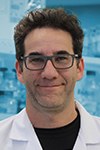 Professor Patrick Humbert
Position:
Professor of Cancer Biology, Department of Biochemistry and Genetics, La Trobe University, La Trobe Institute for Molecular Science
Credentials:
Associate Professor in Oncology at University of Melbourne
Professor of Cancer Biology at La Trobe University
Websites:
Biography:
Professor Patrick Humbert, received his BSc (Hons) from the University of Western Australia, and his PhD from the Walter and Eliza Hall Institute (University of Melbourne). In 1996, he undertook postdoctoral training at the Massachusetts Institute of Technology (MIT), where he made seminal contributions to understanding tumour proliferation. In 2000, he returned to Australia to set up his own research laboratory at the Peter MacCallum Cancer Centre, Melbourne, where he has studied how cell orientation is required for stem cell function, organ formation and cancer with a particular emphasis on breast and prostate cancer. In 2001, he was awarded a Special Fellowship from the Leukemia and Lymphoma Society of America , successive Career Development Fellowships from the National Health and Medical Research Council (NHMRC) of Australia, and currently is a Senior Research Fellow of the NHMRC.  In 2016, Patrick took up the position of Professor of Cancer Biology at La Trobe University and is Director of the Research Centre for Molecular Cancer prevention at La Trobe University.
Current areas of collaboration:
Prostate Cancer Specific collaborations:
With KConFab, Peter MacCallum Cancer Centre, Melbourne, Australia: Modelling prostate cancer of BrCa2 mutation carriers in the mouse.
With Ronald Simon, University Medical Center Hamburg-Eppendorf, Hamburg, Germany: Analysis of polarity genes in large cohort of clinically annotated prostate cancer patients.
Best publications:
http://www.ncbi.nlm.nih.gov/pubmed/?term="HUMBERT PO"+OR+(PATRICK+HUMBERT+AND+AUSTRALIA)
Work Focus:
Work Focus (Biomedical):

Cancer cell biology, Cancer initiation and progression, Cancer prevention, Cell polarity, Oncogenes and tumour suppressor genes, Organogenesis and regeneration, Tissue architecture
EMT, cancer cell biology, cancer initiation, cancer progression, cell polarity, endogenous factors, exogenous factors, genes/genetic polymorphisms, genetic screening, metastases, model systems, mouse models of cancer, oncogenes and tumour suppressor genes.