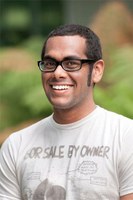 Mr Richard Rebello
Position:
PhD candidate, Anatomy and Developmental Biology, University, Monash
Credentials:
Bachelor of Biomedical Science (Honours) at Monash University
Biography:
Mr Rebello is a PhD candidate in the Risbridger group at Monash University where he is investigating potential selective inhibitors as therapies for oncogene driven cancers with a particular focus on cell signalling and disease.
His current research interest lies in the influence of the various cell growth/division and death pathways in prostate cancer, especially those driven by the MYC oncogene.
MYC, oncogene, inhibitor.