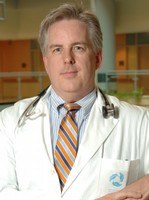 Dr Robert Bristow, FRCPC
Position:
Clinician-Scientist, Ontario Cancer Institute/Princess Margaret Hospital
Professor, Departments of Radiation Oncology and Medical Biophysics, University of Toronto
Director, Core I - STTARR Innovcation Facility
Research Scientist, Canadian Cancer Society
Head, Campbell Family Research Institute-PMH Prostate Cancer Research Program
Scientific Board Member, Ontario Cancer Biomarker Network
Chair, Translational Biology Advisory Group for Canadian Association of Radiation Oncology (CARO)
Websites:
Biography:
Dr Bristow is a Clinician-Scientist and Professor within the Departments of Radiation Oncology and Medical Biophysics at the University of Toronto; a Senior Scientist at the Ontario Cancer Institute; and a Radiation Oncologist in Genitourinary cancers at the Princess Margaret Hospital.
His research interests include DNA damage signalling and repair, prostate cancer progression and prediction of prostate cancer treatment response.
Dr Bristow has active research programs and clinical trials pertaining to hypoxic cell targeting, use of synthetic lethality approaches to cancer treatment and combined molecular targeting with chemotherapy or radiotherapy.
He is the Editor of the 4th Edition Basic Science of Oncology, and has twice been a Canadian Foundation for Innovation (CFI) Award recipient. He has over 200 published papers, abstracts and book chapters, and has been an Invited Speaker or Visiting Professor on more than 80 occasions.
hypoxia.