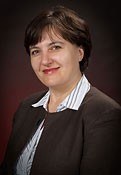 Dr Sevtap Savas
Position:
Assistant Professor, Discipline of Genetics, Memorial University of Newfoundland, Faculty of Medicine
Websites:
Biography:
Dr Sevtap Savas Ph.D, CAPM, completed her PhD in Molecular Biology and Genetics in 1999. She has been trained as a post-doctoral fellow/research associate at Louisiana State University, USA; Mount Sinai Hospital Research Institute and Ontario Cancer Institute at Princess Margaret Hospital, Toronto, Canada. She is currently an assistant professor at the Discipline of Genetics, Faculty of Medicine, Memorial University, Canada. Dr. Savas is also interested in project management and currently holds a CAPM credential from the Project Management Institute.
Dr Savas' research program involves both wet-lab analyses and bioinformatics. Her main research interests are to identify the role of genetic polymorphisms and somatic mutations in variable treatment response, prognosis and survival in cancer, establishment of genetic databases, and in silico genetic data analysis. Dr Savas has previously worked on breast and head and neck cancers, childhood onset spinal muscular atrophy, and the Acadian Usher type I syndrome. Her research program currently focuses on colorectal cancer.
behaviour, bioinformatics, cancer initiation, cancer progression, data summarisation, diagnosis, endogenous factors, exogenous factors, genes/genetic polymorphisms, localized therapies, marker discovery, marker testing, metastases, oncogenes and tumour suppressor genes, prognosis, survivorship, systemic therapies, pharmacogenetics, databases, human molecular genetics, polymorphisms, somatic mutations, mitochondrial DNA.