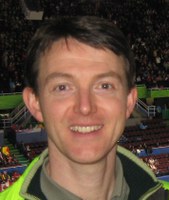 Dr Simon Cowell
Position:
Laboratory Specialist, Health Canada, Food Directorate, Western Region Lab
Credentials:
NSERC Postdoctoral Fellow at QLT Inc., Vancouver, BC
Postdoctoral Fellow at Vancouver Prostate Centre, BC
PhD (Biology) at University of Victoria, BC
MSc (Biochemistry) at University of Victoria, BC
BSc Hons (Biochemistry) at University of Bath, UK
Biography:
I am the project leader for the allergens and molecular biology group in the Western Regional Lab of Health Canada.  We work closely with the Food Directorate in the Ottawa on a variety of projects to support our mandate of managing the health-related risks and benefits of health products and food.  Our group performs ELISA screening to collect data on the presence of allergens and other health hazards in food to support risk assessment and standard setting. In addition we develop methods for screening foods using DNA based technologies such as PCR and use cell culture to conduct some toxicology research. Our projects are conducted in collaboration with Health Product and Food scientists in Ottawa and other regions as well as with other federal departments and academics in British Columbia.
Functional foods, nutraceuticals, rapid method development, allergens, immuno-PCR.