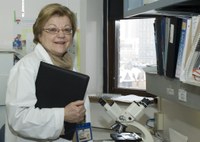 Associate Professor Simone Chevalier
Position:
Associate Professor, Department of Surgery (Urology Division), McGill University Health Centre -Research Institute, McGill University
McGill Urology Director of Research, Department of Urology, McGill University Health Centre
Scientific Director, PROCURE Alliance Prostate Cancer Biobank
Credentials:
Ph.D. at University of Montreal
Biography:
I obtained my Ph. D. in Biochemistry from Université of Montréal in 1974 (Montréal, Qc, Canada) and spent three years of post-doctoral training at UBC (Vancouver, BC, Canada) prior starting my "journey" in the prostate field at the end of 1977. I was recruited by an Endocrinologist, Dr A. Chapdelaine, at the Maisonneuve-Rosemont Research Centre in Montréal with the mandate to isolate rat prostate cells and identify which of the androgen derivatives would directly stimulate growth. After extensive reading, I convinced my mentor to shift from the rat to the dog prostate since canines spontaneously develop benign prostatic hyperplasia and prostate cancer when they age. Moreover alike human but in contrast to rodents, the dog prostate overgrows its initial size when supplemented with androgens after castration, suggesting species differences in mechanisms regulating prostate growth. However despite full latitude to move on, my results did not meet expectations regarding androgens but rather led to the discovery of enriched immature basal/stem cells that were rapidly growing without androgens or other steroids. Our team was among pioneers in demonstrating the existence of such cycling androgen-independent prostate epithelial cells requiring growth-promoting factors to divide prior to undergo into a maturation process leading to differentiation into secretory cells. We proposed that these new observations apply to prostate cancer but by doing so, we were challenging existing concepts. This was highly controversial as well but these findings incited me to embrace an academic career as a natural path to pursue to interrogate prostate cells. This was possible after becoming an assistant professor (contract-based) appointed to University of Montréal in 1982. I was awarded a scholarship from « Les Fonds de la Recherche en santé du Québec » and grants from the Medical Research Council of Canada. Our prostate cells taught us about need of a particular extracellular matrix protein to seed, deposition of such a matrix, specific binding of androgens and metabolizing activities, growth-promoting factors and activity of tyrosine kinases and phosphotyrosine phosphatases. In 1992-93, time had come to get closer to clinicians (uro-oncologists), prostatic diseases and patients. I was offered to help designing and then direct new Research Facilities in Urologic Oncology that opened in 1994 at the McGill University Health Centre Research Institute. Our prostate cancer research integrated neuroendocrine differentiation in the motility pathway involving signaling through focal adhesion and Src kinase linked to integrins as well. Our findings on the Fer kinase made its way to progression, with increased nuclear levels, and in partnership with its substrates and binding partners, STAT3 and AR. In 2005, I became the McGill Urology Director of Research. Among others, I mentor new faculty members and coordinate scientific activities to allow clinicians and scientists to work together to better understand and deal with urologic diseases for the best of patients. Since 2007, I also direct a pan-provincial Prostate Cancer Biobank, under the umbrella of PROCURE Alliance, a non-for-profit Québec organization whose sole cause is to promote advancement in the field of prostate cancer through awareness, education, and research. Along the same line and together with McGill Urology colleagues, we are part of the Terry Fox Research Initiative led by Dr F. Saad that was launched in Canada three years ago. Lastly at the end of 2012, I joined the Movember GAP movement, teaming with colleagues interested in biomarkers found in exosomes and tissues (pending). Over these 35 years in prostate cancer research, I have not changed. I am still passionate and have faith in research.
Best publications:
Selection not based on impact factor of journal but first time report in the literature and new developments.
Tremblay L., Hauck W., Aprikian A., Bégin L. R., Chapdelaine A., Chevalier S. pp125F expression, activation and association with paxillin and p50CSK in human metastatic prostate carcinoma. Int. J. Cancer; 68, 164-171, 1996
Chevalier S., Defoy I., Lacoste L., Hamel L., Guy L., Bégin L R, Aprikian A G. Vascular endothelial growth factor and signaling in the prostate: more than angiogenesis. Molecular and Cellular Endocrinology; 189, 169-179, 2002.
 Lacoste J, Aprikian A. G., Chevalier S. Focal adhesion kinase is required for bombesin-induced prostate cancer cell motility. Mol Cell. Endocrinol.; 235, 51-61, 2005
 Zoubeidi A., Cury-Rocha J., Zouanat F., Hamel L., Scarlata E., Aprikian AG, Chevalier S. The Fer tyrosine kinase cooperates with interleukin-6 to activate the signal transducer and activator of transcription 3 and promote human prostate cancer cell growth. Mol Cancer Res.; 7, 142-155, 2009.
 Anidjar A, Scarlata E., Cury FL, Rocha J., Hamel L., Luz M., Chevalier S. Refining the orthotopic dog prostate cancer (DPC)-1 model to better bridge the gap between rodents and men. The Prostate; 15;72(7):752-61, 2012
Research interest:, Prostate cancer progression / Identification of biomarkers and therapeutic argets in blood and tissues (prostate and metastasis);, Signaling through Tyrosine kinases up to transcription factors;, Imaging metastasis in the dog animal model of advanced prostate cancer;, tumor (metastasis);, heterogeneity/stem, neuroendocrine and luminal like cells;, Prospective Biobanking (PROCURE).