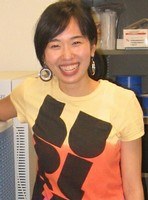 Ms Yunee Kim
Position:
PhD student, Institute of Medical Science, University of Toronto
Affiliate, University Health Network
Biography:
Ms Kim is currently a first year PhD student at the University of Toronto, under the supervision of Drs Jeffrey A. Medin and Thomas Kislinger. Her current research focuses on the discovery of prognostic biomarkers of prostate cancer, as well as the disambiguation of key molecular players that orchestrate the development and progression of prostate tumours. Her undergraduate and Masters degrees focused on animal infections and immunity. Throughout her studies, she gained a tremendous amount of expertise and laboratory experiences by continuously being involved in helping graduate students with their research as an undergraduate summer student, and eventually conducting her own studies as a graduate student. Her Masters thesis involved the use of proteomics techniques to identify biomarkers for bacterial infections in dairy cattle. As a result of this, she became interested in proteomics and how it can be applied to numerous scenarios in order to answer various questions. Her background as a biologist combined with her experience in proteomics led her to pursue further studies in the field of cancer biology and cancer proteomics.
In September of 2009, she joined the Medin and Kislinger labs as a PhD student. The overall aims of her PhD thesis are to use proteomics to profile the proteomes of prostatic fluids from patients with aggressive and indolent tumours and to comparatively analyze them in order to: 1) identify prognostic markers of prostate cancer; and 2) to identify and elucidate the functional roles of proteins that mediate the progression of aggressive tumours and/or mitigate indolent tumours.
alternative treatment, biomarkers, cancer progression, marker discovery, metastases, proteomics, technology development, immunotherapy, , .

lentivirus.