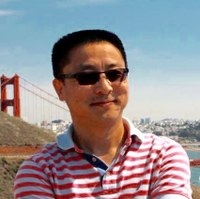 Professor Yuzhuo Wang
Position:
Distinguished Scientist, Experimental Therapeutics, BC Cancer Agency
Professor, Urologic Sciences, UBC
Senior Scientist, Vancouver Prostate Centre
Websites:
Biography:
Dr. Yuzhuo Wang (王玉琢) has a dual appointment as a Senior Scientist at the Vancouver Prostate Centre and Distinguished Scientist at the BC Cancer Agency. He is also the Founder of the Living Tumor Laboratory (www.livingtumorlab.com) and a Professor in Department of Urologic Sciences at UBC. Dr. Wang did his Ph.D. at the University of Hong Kong, and joined Dr. Gerald R. Cunha at University of California, San Francisco as a postdoctoral fellow in 1997. Since then, he has authored/co-authored over 120 peer-reviewed original articles and review papers with over 750 cumulative impact factors, including publications in Cancer Research, PNAS, Cancer Cell, Clinical Cancer Research, the EMBO Journal, and Nature. As a principal investigator, he is well funded by a number of agencies (e.g., the Canadian Institutes of Health Research). His academic contributions can be highlighted by a number of novel hypotheses he has proposed, such as hypotheses on "prostate stem cells", "epithelial-immune cell transition (EIT)", "cancer-generated lactic acid is critical, immunosuppressive metabolite rather than a 'waste product' (which has been believed for more than 90 years)" and "Tumor dormancy is a non-genetic disease"., Dr. Wang is recognized for his pioneering work in the field of prostate cancer modeling. He was the first to establish tissue recombination model of hormonal prostatic carcinogenesis. He also developed the first model of hormonal carcinogenesis in human prostatic epithelium. Moreover, he is responsible for a novel method for establishing transplantable, patient-derived xenograft models that closely resemble patients' malignancies. Using the methodology, his group has developed over 200 transplantable patient-derived xenograft models in the laboratory. Importantly such "next generation" xenograft models have been effectively applied in a number of research areas, such as (i) preclinical drug efficacy studies in anti-cancer therapeutics development, (ii) discovery and validation of potential biomarkers and/or therapeutic targets, and (iii) personalized cancer therapy.

Dr. Wang has received numerous awards for his academic achievements in cancer research, such as a Prostate Cancer Foundation Research Award (2007), the Translation Research Award from Roche (2009), an Overseas Chinese Scholars Award from the National Natural Science Foundation of China (2009), the Innovative Scholar Award from the International Cancer Alliance for Research and Education (ICARE) (2010), an UBC Faculty of Medicine Distinguished Achievement Award (2011), an UBC Department of Urologic Sciences Outstanding Academic Performance Award (2013) and a Distinguished Visiting Professorship under the Tianjin Thousand Talents Program (2013), and a Department of Urologic Sciences Research Teaching Excellence Award (2015). 
Best publications:
Collins CC, Volik SV, Lapuk AV,  Wang Y, Gout PW, Wu C, Xue H, Cheng H, Haegert A, Bell R, Brahmbhatt S, Anderson S, Fazli1 L, Hurtado-Coll1 A, Rubin M, Demicheli F, Beltran H, Hirst M, Marra M, Gleave M, Lubin M & Wang YZ. Next Generation Sequencing of Prostate Cancer from a Patient Identifies a Deficiency of Methylthioadenine Phosphorylase (MTAP), an Exploitable Tumor Target. Molecular Cancer Therapeutics. 11 (3):775-783, 2012
Choi SYC, Collins CC, Gout PW, 

Wang

 YZ. Cancer-generated lactic acid: a regulatory, immunosuppressive metabolite? Journal of Pathology. 230(4): 350-5, 2013 
Lin D, Wyatt AW, Xue H, Wang Y, Dong X, Haegert A, Wu R, Brahmbhatt S, Mo F, Jong L, Bell RH, Anderson S, Hurtado-Cull A, Fazli L, Sharma M, Beltran H, Rubin MA, Cox ME, Gout PW, Morris J, Goldenberg L, Volik SV, Gleave ME, Collins CC, Wang YZ. High fidelity patient-derived xenografts for accelerating prostate cancer discovery and drug development. Cancer Research. 74(4):1272-82, 2014. 
Luk I, Xue H, Cheng H, Lin D, Gout PW, Fazli L, Collins C, Gleave M,  Wang YZ. The BIRC6 gene as a novel target for therapy of prostate cancer: Dual targeting of Inhibitors of Apoptosis Oncotarget  2014 Aug 30;5(16):6896-908
Crea F, Saidy NRN, Collins C, Wang YZ. The epigenetic/non-coding origin of tumour dormancy. Trends Mol Med  21(4): 206-211, 2015
animal models, cancer progression, chemoprevention, exogenous factors, localized therapies, marker discovery, metastases, prostate cancer, systemic therapies, technology development, .